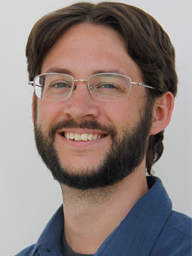 Will Emigh is a Lecturer in game design at the IU Bloomington Media School in addition to being a video and boardgame designer at his company, Studio Cypher. His physical work includes Tattletale!, a card game based on the Prisoner's Dilemma published in 2014, and Stickers in Public, a set of games on stickers that can be placed anywhere. Highlights of his digital work are The Cyphers, a series of short alternate reality games released in 2007, and four kiosk games for the Chicago Field Museum's Ancient Americas Exhibit. He is currently working with partners to use motion-tracking technology to make physical therapy more effective and bearable for stroke victims and children.
In addition to his day jobs, Will is on the board of the Humanetrix Foundation and organizes Sigma Play, a hands-on conference for games designers of all types, and Bloomington Indie Game Nights, a monthly gathering of hobbyist game designers in Bloomington, IN.
He can be reached at wemigh [at] indiana.edu.